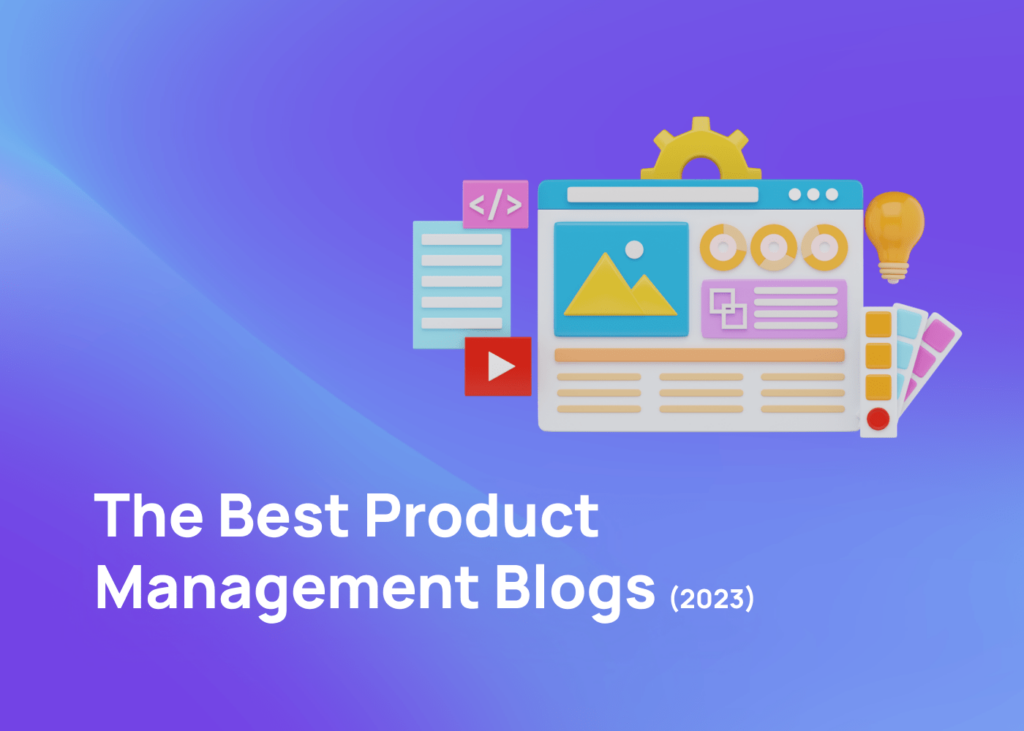 In a fast-moving field like product management, staying updated with the latest trends, insights, and best practices is crucial. That's why, at Visily, we take pride in providing the best product management-related content through our blog.
However, if you're looking to gain an even broader understanding of the product management space, we've compiled some of the best sites on the web to check out. From expert advice to real-world case studies, these blogs ensure that product managers are always at the top of their game.
The 8 best product management blogs on the web in 2023
Mind the Product has established itself as an indispensable, community-driven platform for product managers across the globe. It offers a rich collection of articles, videos, and events, shedding light on every conceivable aspect of product management. Whether it's the nuances of user experience or the strategic depths of product development, Mind the Product has it covered.
A recent favorite of ours at Visily is their article on the intersection of AI and product management. This piece brilliantly captures the transformative impact of AI on product strategies and offers actionable insights for product managers navigating this new frontier. 
The blend of forward-thinking perspectives with practical advice in this article exemplifies why Mind the Product is a must-read for both budding and seasoned product managers.
Product Coalition stands out as a vibrant blog on Medium, acting as a central hub for product managers, designers, and developers from all corners of the world. With a plethora of contributions from seasoned professionals and industry experts, the platform delves into a wide array of topics, encompassing everything from the intricacies of product development to the art of effective team collaboration.
One article that recently caught our attention is "4 Forgotten Tips on Becoming a Better Product Manager at Work". This piece stands out not just for its insightful content but also for its fresh take on refining one's skills as a product manager. It sheds light on often-overlooked aspects of the role, offering actionable advice that can be immediately implemented. It also emphasizes the importance of self-improvement in the ever-evolving realm of product management.
Product Coalition's commitment to delivering fresh and relevant content solidifies its position as an invaluable resource for anyone looking to thrive in the product domain.
Roman Pichler is a force in the realm of agile product management. Through his blog, he masterfully intertwines theoretical frameworks with actionable insights, providing readers with a comprehensive understanding of agile methodologies and lean practices. Each article on his platform is meticulously crafted to ensure that the knowledge imparted can be applied in real-world product management scenarios.
A recent article that resonated with us is "Leveraging New Technologies: Tips for Product People". This piece delves into the challenges and opportunities that arise when integrating new technologies into product development. Pichler's nuanced approach to balancing innovation with feasibility is particularly enlightening. At Visily, we're always on the lookout for ways to harness cutting-edge technologies to enhance our offerings, and Pichler's article offers a roadmap for doing just that, emphasizing the importance of strategic alignment and user-centric innovation.
For those embarking on or already deep into their product management journey, especially within an agile framework, Roman Pichler's blog is a treasure trove of knowledge and expertise.
Ken Norton, a distinguished partner at Google Ventures, has carved a niche for himself with his insightful essays on product management and leadership, hosted on his blog Bring the Donuts. While he may not publish as frequently as some other bloggers, each of his essays is a masterclass in depth and reflection, prompting readers to challenge their preconceptions and refine their strategies.
A recent favorite of ours is "The Art of Product Management". In this essay, Norton delves into the balance between science and creativity inherent in product management. He eloquently discusses the nuances of intuition and data-driven decision-making, emphasizing the importance of harmonizing these elements for product success. Norton's essay also outlines the symbiotic relationship between creativity and analytics, reminding us of the artistry that underpins effective product management.
Of course, it's impossible to discuss Ken Norton's contributions without mentioning his seminal essay "How to Hire a Product Manager," which has become a cornerstone piece in the industry, guiding countless hiring decisions and shaping the evolution of the product management role.
Feature Upvote, known for its feedback software platform, extends its expertise through a blog that dives deep into the realms of product management, feedback collection, and feature prioritization. Their articles stand out for their brevity, practicality, and the inclusion of real-world examples, ensuring readers can easily grasp the concepts and apply them in their professional endeavors.
One recent article that stands out is "The Power of Feature Request Software". This piece brilliantly underscores the significance of having a structured system to gather, prioritize, and act upon feature requests. It emphasizes how such software can bridge the gap between users and product teams, ensuring that product enhancements are in line with user needs and market demands. At Visily, we believe in the importance of user feedback as a cornerstone for product evolution, and this article resonates with our ethos, highlighting the transformative potential of frequent feedback in shaping product roadmaps and ensuring user satisfaction.
With its blend of insights and actionable advice, the Feature Upvote Blog is an awesome source for product managers and teams looking to refine their strategies and stay attuned to the latest trends in the space.
ProductPlan, renowned for its roadmapping software, further enriches the product management community with its insightful blog. The articles presented delve deep into strategic planning, roadmapping, and crafting a compelling product vision. Drawing from real-world experiences and challenges, the ProductPlan blog serves as a repository of practical advice, ensuring product managers and teams can seamlessly integrate these insights into their daily operations.
One article that particularly resonated with us is "The Transformative Power of AI and ML in Product Management". This piece sheds light on the burgeoning influence of artificial intelligence (AI) and machine learning (ML) in shaping the future of product management. It underscores how these technologies are revolutionizing the way product managers analyze data, predict trends, and make informed decisions. At Visily, we're at the forefront of leveraging AI in design, and this article aligns perfectly with our belief in the transformative potential of AI and ML in driving product innovation and ensuring optimal user experiences.
With its blend of in-depth analyses and actionable insights, the ProductPlan Blog is an invaluable resource for product managers aiming to stay ahead of the curve.
Intercom, a leading customer messaging platform, extends its thought leadership through its blog that contains insights spanning product management, customer support, startups, and design. With contributions from seasoned product managers and adept designers, it strikes a balance between practical advice, illuminating case studies, and forward-thinking perspectives. Each article is crafted to address the multifaceted challenges encountered during product development, offering readers actionable solutions and fresh viewpoints.
A recent article that caught our attention at Visily is "4 Big Myths of AI in Customer Service". This piece demystifies some of the common misconceptions surrounding the integration of AI in customer service. It emphasizes the symbiotic relationship between AI and human agents, highlighting how AI can augment human capabilities rather than replace them.
For product managers and professionals keen on staying updated with the latest trends, challenges, and solutions in the realm of product management, Intercom's blog is an indispensable resource.
8. Pragmatic Institute Blog
Pragmatic Institute, a beacon in the realm of product management and marketing training, further amplifies its authority through its insightful blog. The Pragmatic Institute Blog covers a broad spectrum of subjects, encompassing product innovation, go-to-market strategies, data science, and market research. Each article draws from the expertise of industry stalwarts and adept product managers. These contributions meld theoretical frameworks with tangible real-world insights, ensuring readers gain a holistic understanding of the product management landscape.
One article that recently resonated with our team is "Why is Your Product Winning or Losing?". This piece delves into the critical factors that determine a product's success or failure in the market. It underscores the importance of understanding customer needs, market dynamics, and competitive positioning. The article also emphasizes the significance of continuous feedback and iteration, aligning well with Visily's approach to design and product development. We appreciate its analytical approach to dissecting product performance, offering actionable insights that can be pivotal in steering product strategies.
For professionals and enthusiasts eager to deepen their understanding of product management, the Pragmatic Institute Blog is the gold standard.
Prioritize continuous learning with these product management blogs
The world of product management is ever-evolving, and staying updated is not just an advantage but a necessity. These blogs offer a window into the latest trends, challenges, and best practices in the industry.
Whether you're a seasoned product manager or just starting out, these resources can provide invaluable insights to guide your journey.