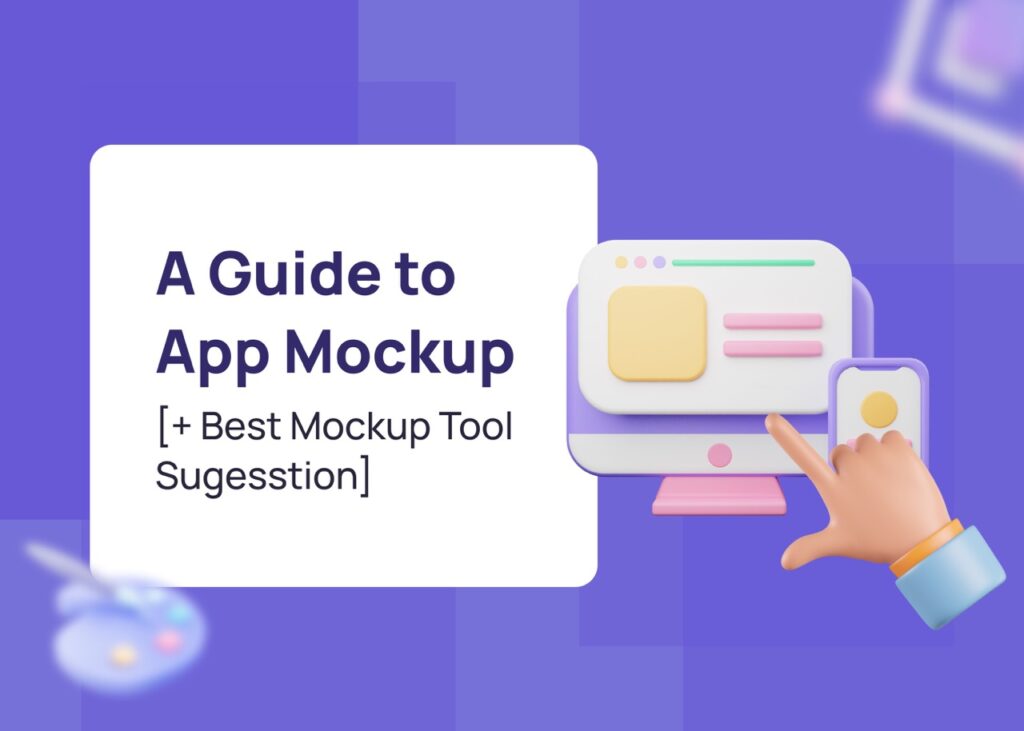 Working on developing an app, whether it's a mobile app or a SaaS, seeing those apps coming to life on your screen in mockup form can be an exciting experience. Creating an app mockup not only allows you to visualize your product, its unique selling points, and how users will interact with it, but it also helps you showcase to stakeholders why your product idea is exceptional. 
A well-crafted app mockup can also aid in testing ideas, identifying inconsistencies, and assessing whether your design can provide value to your intended audience. By creating an app mockup quickly, you may even save time in the design and development process later on.
Are you unsure where to begin with app design? Let Visily walk you through creating an app layout mockup and how Visily can be your best mockup tool.
What is an app mockup?
If in our previous article, we talked about UI mockup creation and guidelines, in this article, we'll go into detail about app mockup definition.
A mockup of an app is a visual representation of the idea behind the app that shows its structure, purpose, and appearance. Compared to a wireframe, a mockup includes some or all of the visual elements that a final product will have, such as text, images, or branding elements.
A mockup is different from a prototype in the sense of interaction; once clickable links and user flows are added to the design, it becomes an app prototype. Although mockups are not functional, they give an idea of how the app will look, bringing you the most real feeling of how your app will be. 
You can learn more about different app design fidelity in our guide to 'Low fidelity vs. High fidelity wireframe.'
The importance of creating an app mockup
So why is it so vital to create an app mockup? Well, it can be a highly efficient way to test your app ideas and refine your concepts without wasting too much time or resources. With the recent availability of user-friendly UI design software, creating an app mockup has become faster than ever before. Here are some additional reasons why utilizing an app mockup could lead to successful outcomes for your design project:
Speed up the approval process of your app's design by stakeholders
These visual representations of your app idea can effectively communicate its core purpose and style with minimal resources. You can showcase your idea to team members, clients, or investors and get their approval promptly. This is an effective way to align everyone's expectations and shorten the sign-off process during the early stages of development.
Gather useful feedback on the feasibility of your app design
Designing an app can be challenging. Sometimes your idea might not be feasible in terms of (technical) execution. Or sometimes, there is uncertainty about whether your idea will be successful. Hence, by creating an app mockup, you can visualize how your app might appear to a user. You can examine your main screens, evaluate the user experience, and assess the impact and effectiveness of your unique selling points and mission statements.
Cut down on app development time
If you want to save time in app development, try creating an app mockup. It can help yu identify potential design issues early on and refine your idea before you start developing. When yu create a detailed app mockup, with your project stakeholders' approval, you provide your development team with clear information, reducing the risk of misunderstandings and saving time on project management and revisions.
How do I make a mockup for my app?
Now that you know what an app mockup is and the importance of having it. Here are the four steps to follow to create an app mockup:
Plan out your information architecture.
Before designing an app mockup, it's important to think more than just a landing page highlighting your product and services' unique selling point. To effectively convey your app idea, purpose, and potential, you should think about the bigger picture. This includes determining which other screens to include, devising a user-friendly navigation system, and establishing strategies for retaining users, as well as building brand loyalty and advocacy.
You can start mapping out your app's information architecture. This involves defining the app's content and functionality and outlining how various design components will interact with each other. Don't worry about the fancy design work or UI design tool just yet. Simply use pen and paper to create a flow chart outlining your site's structure. By doing this first, creating your app wireframes in the next step will be much easier.
Create a wireframe using a wireframe maker
After finishing with the app architecture, you can move on to the next step: wireframing. This can be sketching out the basic structure of your core screens. You should include key elements like image blocks, navigation, and headings. There are several ways to do this, either hand-drawn or using wireframe tools like Visily. 
Simply sign up for free and customize the template to fit your design. Visily even offers AI-powered features to enhance your design, but we'll discuss that later in more detail. 
Enhance your designs with images, text, and clear calls to action.
After having your wireframe in place, it's time to add some personality and personalization to your app design. The purpose is to bring your app mockup to life in a way that showcases your vision to both internal and external stakeholders. If you already have an established brand, it's important to follow the brand guidelines for messaging and aesthetics. However, if you're designing something new, you can get started with Visily's templates and components and tailor them until you're satisfied with the final results. You can add text to your mockup with Visily's AI content generation feature.
Centralize your unique selling points and add in user journeys
After you've designed the structure and wireframes and added content to your project, it's important to outline the user experience. You don't have to create functional click paths yet, but you should refine the placement of call-to-action buttons and navigation elements to show how the screens will interact. 
The best tool to create an app mockup
Choosing the right software for creating an app mockup depends on your level of experience in design and whether you're tech-savvy or not. Some tools are easier to use than others. While most mockup tools are geared toward experienced designers, there are now more accessible and easy-to-use options available to democratize UI design. 

Visily is a great example of a user-friendly UI design tool, it is not only the best wireframe tool you can find on the market, but it is also the best free mockup app available. Visily empowers all users to bring their app ideas to life with the help of AI. You can easily set up a design theme with four simple options: customize an existing theme, generate a theme from a text description, upload an app or website screenshot, or input an app or website URL. Visily's AI assistant will help transform them into beautiful, functional, and high-fidelity mockups. 


Eager to learn more? Try creating your app mockup now!