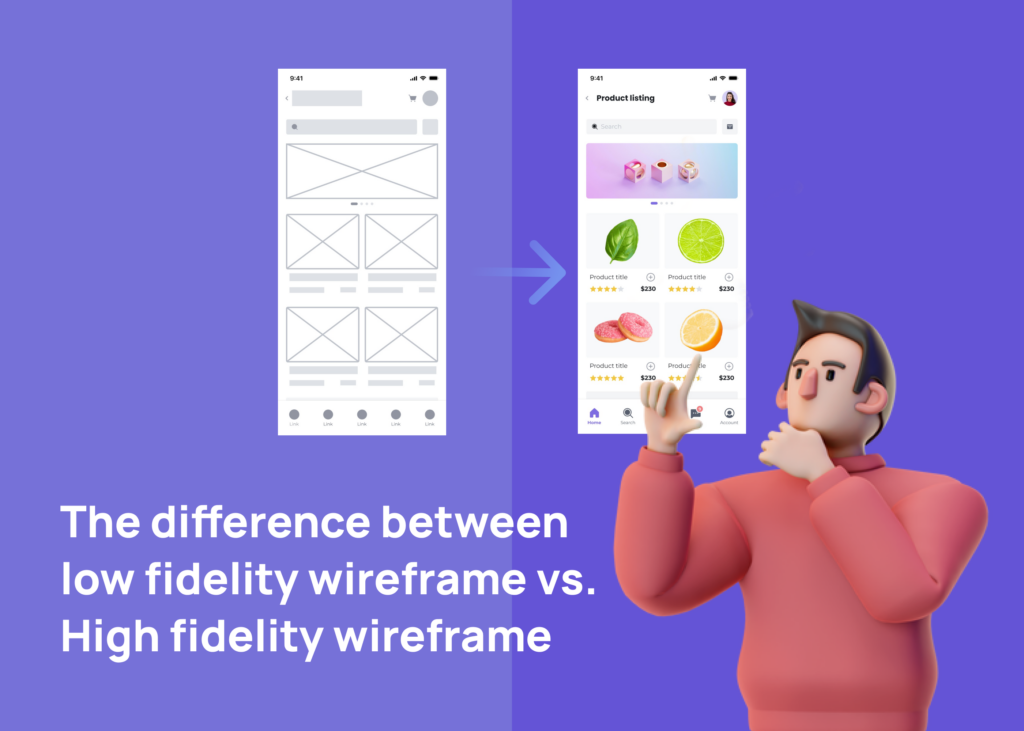 It isn't exaggerated to state that wireframes are an excellent product's unsung heroes. Without effective wireframe planning, it's almost impossible to create a product that makes people want to stay. For those new to the product design world, hearing terms like "low-fidelity wireframes" and "high-fidelity wireframes " might be confusing, as the concept of fidelity can be difficult to decipher. 
Well, you've come to the right place. In this article, we will look at the definition of low-fidelity and high-fidelity wireframes and share with you when and how to use each type!
What are wireframes?
Wireframes are the starting point of any product development since it serves as the visual representation, showcasing the structure and layout of a website or application. 
Wireframes are meticulously created before a product is actually developed. Hence, it helps designers to ensure that the final product is both visually appealing and functional, while product managers and owners can gain a better understanding of the final product before it's created and released.
What does "fidelity" mean in product design?
Fidelity in UI UX design refers to a design's level of detail and accuracy. Think of design fidelity as a spectrum: at one end, low-fidelity wireframes (or lo-fi wireframes/designs) showcase the fundamental purpose of a product with minimal detail and no functional elements. On the other end are high-fidelity designs (or hi-fi wireframes/designs) that include more detail and stylistic elements to give product stakeholders an idea of how their website, web app, or mobile app would look and operate.
The design structure, content, and functionality determine the level of fidelity.
What is a Low-Fidelity Wireframe?
A low-fidelity wireframe, sometimes known as lo-fi wireframe, is a basic outline of a website or application interface's layout and structure. It's created with minimal details and is mainly used to define and convey the fundamental components of a design, like navigation and core CTAs.
Low-fidelity wireframes usually appear as simple, greyscale blueprints that only highlight the essential features of a website or an app. A lo-fi design can also include core landing pages like the homepage, product pages, and service pages. And instead of using actual assets, lo-fi wireframe designs contain simple shapes and placeholder text and images.
Low-fidelity wireframe designs are not interactive but may contain a flow chart demonstrating the user flow and path.
When is low-fidelity wireframe design used?
Lo-fi wireframe design is extremely easy and quick to create. In fact, anyone can easily create low-fidelity wireframes; all you need is a pen and paper. As simple as it seems, lo-fi designs are indispensable when generating design ideas, sharing concepts, and testing layouts in the early stages.
Low-fidelity wireframes are also helpful when UI/UX designers have to work with clients who are not familiar with the design process. Lo-fi wireframes allow the client to focus on the layout and structure rather than the visual details. The client can also determine whether or not to add or remove a feature in an interface.
For development teams, lo-fi wireframes help them to see the placement of the element on the page and leave comments and share their point of view (if designers use UI wireframe tool). When the whole team gets involved and agrees upon how a website or app looks earlier in the development lifecycle, it helps them to save time and cost later on.
What is a High-Fidelity Wireframe?
A high-fidelity wireframe, or hi-fi wireframe, is a detailed depiction of the product design. Since it shows how a website or app will appear to the users, a hi-fi wireframe design usually includes all details like images, text, other design and branding elements. High-fidelity wireframes are often made with wireframe tools like Visily or Adobe XD. 
UI/UX designers often use these wireframes to define the visual design of a website or app; hence, it's essential to include all screens and on-page elements.
They are also used to test the design's usability and get feedback. High-fidelity wireframes are an excellent way to test the design before moving into the development stage.
When is high-fidelity wireframe design used?
After creating a basic framework for your app or website (lo-fi wireframe), you can enhance the design and make it a high-fidelity wireframe. These wireframes closely resemble the final product and are ideal for testing in the early stages. 
Some people might get confused between high-fidelity wireframes and prototypes as they all let us test what the final product would be like. Two terms are almost the same and can sometimes be used interchangeably, but they have some slight distinctions: a hi-fi wireframe lets us test how the final product would look and feel, while a prototype allows us to test how the final product would function. In other words, a prototype is developed from a hi-fi wireframe design and simulates the product features. Another note is that hi-fi wireframes are often used to get the stakeholder's approval.
Wireframing with Visily
Visily is the best wireframe tool that allows you to create both lo-fi and hi-fi wireframes with ease. With its simple and intuitive interface, wireframing is now a piece of cake.
You can either start your design project by choosing templates from our prebuilt library or start from scratch. Both of these give you options to select basic shapes and components that you want to use, drag-drop them onto the editor screen, and arrange them to create the layout. 
What makes Visily stands out is that our tool is fully powered by AI technology, which helps you create a wireframe in just a few clicks. You can simply upload your hand-drawn lo-fi design or a screenshot of a website/app you like, and Visily will help turn it into an editable wireframe. You can tick on the lo-fi or hi-fi option to continue tailoring it depends on your goals and needs.
Want to know more about Visily? Read our Full Visily Review: UI Design Tool For Non-Designers, Powered By AI for more details!
Key takeaways
The decision to use low-fidelity or high-fidelity wireframes depends on the stage of the design process. If you are in the early stages of the design process, it's best to use low-fidelity wireframes, which allow you to explore different ideas and layouts. But if you are in the later stages of the design process, it's best to use high-fidelity wireframes, which let you test the design's usability and get constructive feedback.
Wireframing is essential in a product design process, and by understanding the main difference between different types of wireframes, you can choose the suitable format at the right stage in the product development lifecycle, which helps to save you and your team plenty of time and effort. 
If you're looking for an easy and efficient wireframing tool, try Visily today! Sign up and start creating wireframes that meet the needs of your users.