Wireframe tools are crucial in creating effective and efficient user experiences for digital products like websites, web apps, and mobile apps. They enable users to create wireframes and prototypes, which are essential in the product development process.
Whether you're working in a big tech company or start-up, investing time and money in reliable wireframe tools can make a big impact. With the right UI design tool, you can save time and financial costs for your business.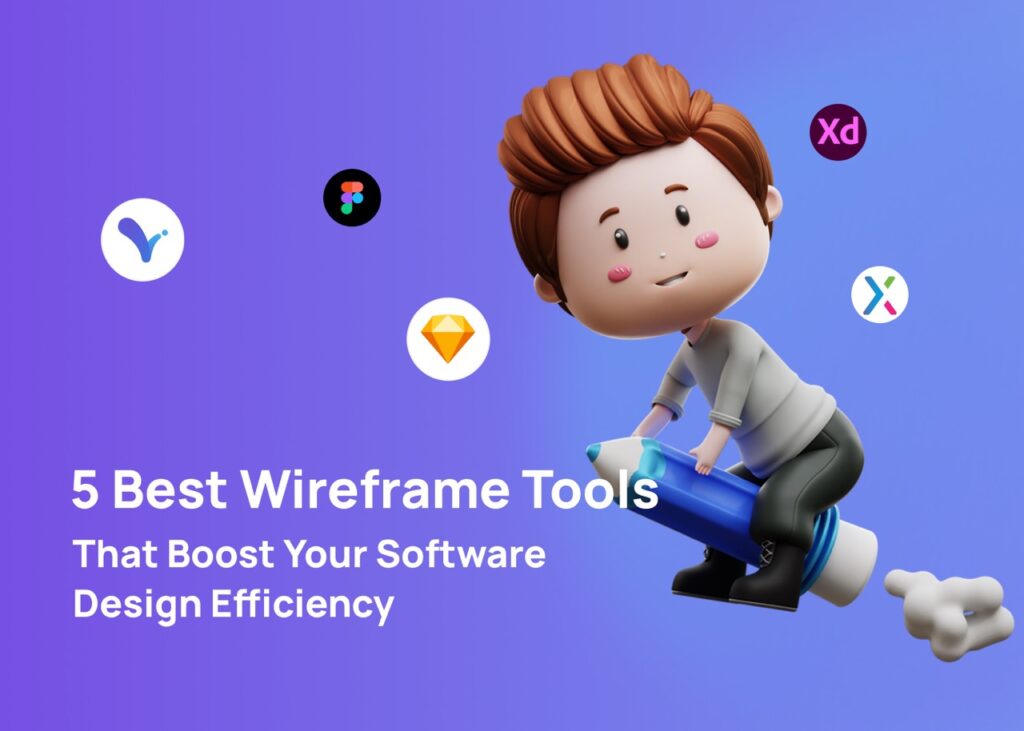 If you're wondering which wireframe tool is best for web design and product design, well, look no further, as in this article, we will share with you the best wireframing tools that can save you thousands on the product designing process.
How to choose the best wireframe tool for your product design?
Wireframe tools are essential when designing software applications or websites as they allow users and project stakeholders to visualize, test, and experience the outcomes of what their product or website will be like before the development stage begins.
The right wireframe tool can make this whole wireframing process much more accessible, reducing time spent designing and enabling stakeholders to provide valuable feedback on the product's possibility.
Here are the top 7 aspects to keep in mind when choosing a wireframe or prototype tool.
Ease of use
The tool you choose should have a user-friendly interface, meaning it is easy to understand and navigate. It requires minimal training and lets you quickly create wireframes without getting bogged down in complicated features. Some prominent features to look for are:
Drag-and-drop functionality.
An intuitive design canvas with simple icons and instructions.
Flexibility
Choose a tool that is flexible enough for you to create wireframes, from simple to more complex ones.
The suitable wireframe tool should allow you to customize the look and feel of your wireframes and align them with your unique branding as easily as possible.
It should also furnish various design elements, icons, fonts, and graphics, to help you create unique and engaging wireframes and prototypes (if you haven't had your branding guidelines already).
Collaboration
Consider a tool that allows easy collaboration, and we don't just mean internal cooperation; the ideal wireframe tool should make it easy for your clients and third-party stakeholders to provide feedback and work on the project at ease. This is one of the prominent features that all product managers and owners should look for. Wireframe tools, or UI design tools that offer live commenting features, version control, and team collaboration, are a go-go. These will ensure that everyone can contribute and stay up-to-date on the project's progress.
Integration
Look for a tool that integrates with other tools you are using, such as design software, project management tools, or version control systems. This integration makes work transferring between devices efficient and avoids potential data loss or formatting issues.
Cost
Consider the cost of the wireframe tools and see whether it fits within your budget. Some tools may offer a free version or trial period, while others require a monthly/yearly subscription or one-time payment (lifetime deal). Be sure to compare each tool's cost against its features to determine if it is a good value for your needs.
Platform support
Ensure the tool is compatible with your platforms, such as Windows, Mac, or mobile devices. UI design tools and wireframe tools that offer cross-platform functionality to ensure you can create wireframes and prototypes on any device you choose.
Customer support
Check for tools that provide good customer support, including online tutorials, forums, and responsive technical support. This support will be vital if you encounter any issues or need help getting started with the tool. Look for wireframe tools with comprehensive documentation and support options to ensure you can get the most out of them.
5 best wireframe tools to cut software design time and boost your efficiency
Visily
Visily is one of the best wireframe tools that you can find out there. Powered by AI, the tool fully caters to the needs of all businesses. With little to zero learning curve to get started, Visily is the new gem in the UI design market.
Visily stands out from other wireframe tools due to its unique ability to utilize AI and democratize the whole product design process. You can quickly convert between low-fidelity and high-fidelity wireframes mode and add interactions to make it a prototype. Visily offers a bunch of AI features like Screenshot-to-Wireframe, Sketch-to-Wireframe, and Text-to-Design, all of which will help make your product wireframing process faster and more efficient. Taking the Screenshot-to-Wireframe feature as an example, you can upload a picture of your favorite website, web app, or mobile app, and Visily AI will convert it into an editable wireframe. If you want to get your hand on creating a wireframe, you can also start from scratch or choose from the prebuilt templates library and tweak from there. It also provides various design elements, icons, fonts, and graphics, to help users create unique and engaging wireframes.
Visily also facilitates the collaboration between product managers, designers, and developers via Design Export, Inspect Design, Share Design, etc.,
Visily offers a free subscription plan for everyone, making it an excellent choice for all businesses. You can learn more about Visily here.
Figma
Figma has an intuitive interface that makes it easy to use. Although Figma is more suitable for professionals with a design background, the tool allows users to quickly create wireframes with little training needed.
Figma's design canvas is flexible enough to accommodate a variety of wireframes, from simple to more intricate ones. Unlike Visily, Figma doesn't offer prebuilt templates or icon sets, but you can download the plugins and search for the templates on the Figma community. However, some users may find that This wireframe tool doesn't have all the specific features or functionality they need for complex design projects. Additionally, the cloud-based platform raises concerns about the security and privacy of designs for many users.
You can also collaborate easily with its real-time commenting and sharing option. There are both free and paid options. You can choose the more suitable version depending on the team's needs.
Adobe XD
Adobe XD's interface is intuitive, with a clean design and a range of prebuilt UI kits that you can choose from. The flexible platform allows users to create wireframes with their specific style. You can quickly create a mockup by installing the Quick Mockup plugin and choosing from its templates and element library, or start wireframing from scratch. You can also utilize the UI design kits to add more detailed elements to your wireframe design.
Adobe XD also offers robust collaboration features like Figma. Not to mention, the tool integrates seamlessly with other Adobe products, making transferring work between these tools a piece of cake.
However, Adobe XD's subscription model may be expensive for some users, and the platform is only available on macOS and Windows.
Sketch
Sketch's interface is designed for Mac users, with an intuitive design that is easy to navigate. This wireframe tool allows users to create wireframes with their brand style in mind and provides a wide range of design elements. Sketch's collaboration features are adequate, with only version control and commenting options available. Sketch does not offer team collaboration options, and transferring work between different design tools may be difficult. Compatibility issues with Sketch may happen, mainly if users work on Windows or mobile devices, as it is only available for Mac.
Sketch is also more expensive compared to some other wireframe tools. The platform requires a one-time payment for a perpetual license.
Axure RP
Axure RP might be complex and difficult to use, especially if you are new to wireframe design or have less experience in designing software. The platform provides comprehensive documentation and support options to help users get started.
Axure RP is flexible, allowing users to create complex wireframes, prototypes, and interactive specifications. It is more like a UX tool than a UI tool. But it's worth mentioning as it allows users to build realistic and functional prototypes. You can add interactions to your wireframe and prototypes and create reusable components.
It also integrates with Figma, Adobe XD, and Sketch. But keep in mind that the Axure RP subscription model can be expensive for some users.
Conclusion
Creating an impactful digital product or website is important; it can be a make-it-or-break-it factor for all businesses. Starting with wireframing, you can refine your ideas and improve the whole product design and development process. By focusing on the user and applying design thinking principles, time and money can be saved. And choosing the right wireframe tools to support the UI design process can make it seamless and hassle-free.
With Visily, we commit to supporting users through all aspects of UI design; you can rest assured that your products are aesthetically pleasing but also functional and user-friendly. So what are you waiting for? Start creating your wireframe now and take your business to new heights!