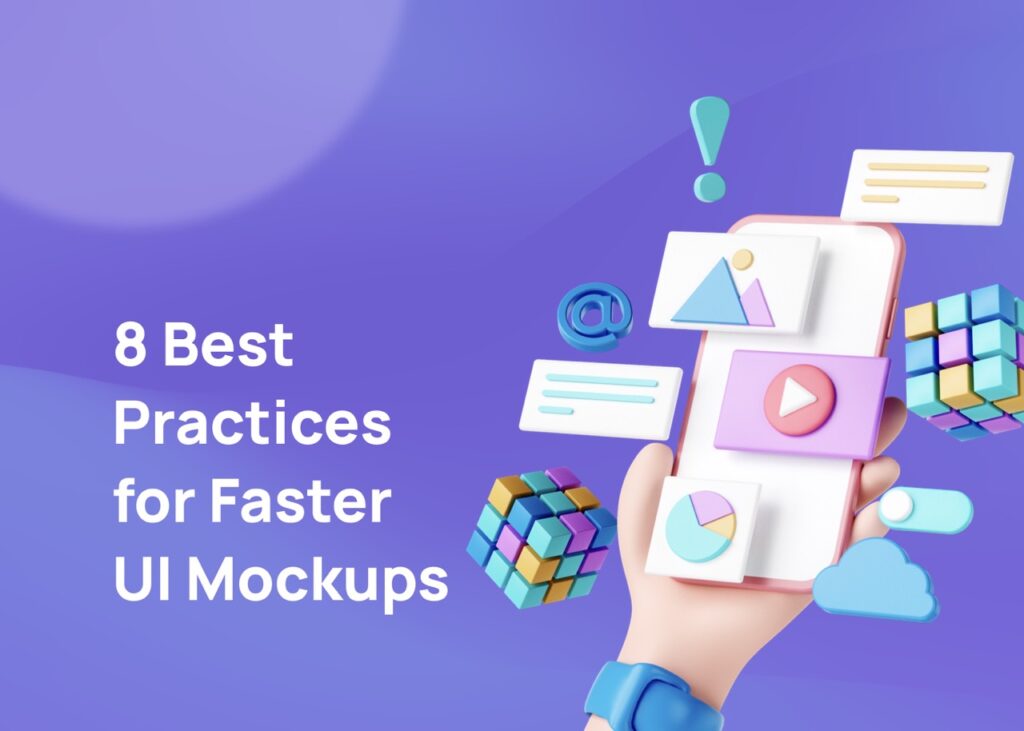 One of the essential parts of a design process is creating a UI mockup. But designers work better when they employ the best practices for faster UI mockups; this way, they don't spend a lot of time on this step. After all, the mockup is only a stepping stone to the real product.
When creating UI mockups, designers must take the standard wireframe and enhance it into a mockup. After the mockup, a high-fidelity prototype comes in, followed by user testing. Since there's a lot of work involved, we've compiled all the top practices for making high-quality UI mockups fast.
You can't create this yourself, but it's best to employ an AI design software like Visily that can speed up the time involved without reducing the quality of your work. Let's take a closer look.
What's a UI Mockup?
A UI mockup is the visual display of the final version of a website and other digital products. The representation usually includes different UI elements like color, icons, hierarchy, and typography. A UI mockup usually looks like a screenshot. They only show how the UI design looks but are designed to be static with no functions.
Businesses can use a UI mockup to decide on the digital product's design before moving on to the next stage, which is the prototype. The mockup is needed to bring the idea to life and let the designer test the app's colors and other visual elements. It can be shown to other stakeholders so everyone knows what to expect.
Remember that a mockup is not the same as a wireframe or prototype. A wireframe is a skeletal set of images that shows the functional elements of a website when planning its functionality and structure. At the same time, a UI mockup is a stylistic and visual representation of the final result.
Also, while a mockup is static and only shows the realistic look of what the product or website will look at, the prototype is designed to demonstrate how users will interact with the digital product. It is not static like a mockup.
The design process is always wireframe, mockup, and prototype.
How Can You Create a UI Mockup Fast?
Keep in mind that designers still have to set up the prototype and carry out user testing after making the UI mockup. So, you can't spend all the time for the project on your mockup. At the same time, you must also consider the quality of the mockup.
Here are some top practices for making UI mockups faster.
Start with a Sketch
It's an excellent idea to create a UI mockup with your sketches. Sketching is an essential step for any designer, and you can add it to your mockup creation process. You should sketch your thoughts on the design that you want to make and experiment with different concepts.
When you spend time brainstorming, you can develop different designs for the UI mockup that you want to create for your digital product. It's pretty straightforward to sketch, as everyone has paper on hand. Although you're drafting out ideas, you should still be intentional about it.
This means you should sketch out the different templates, components, and compositions that you want to see in your design. You can also compare the various templates to determine which direction matches the digital product the most. This step takes a little time and paper.
Leverage Your Sketches
Your sketching will come in handy when you use an AI tool. Instead of repeatedly designing what you have sketched on paper, you can use an AI app to convert your sketch into a design. This takes you from the brainstorming step to the finishing step in just a few minutes and increases your turnaround time.
Visily features an AI sketch-to-wireframe feature that captures your hand-written sketch and converts it to a high-fidelity mockup. The software will scan your drawings and transform them into a mockup on your PC or mobile phone. The design will still be customizable, so you only have to make a few changes if need be.
The AI feature also pays attention to detail so you can write the different features with clear handwriting, and it will also appear on the UI mockup. Once this is done, you can share it with others.
Suppose you practice always sketching your ideas before you design mockups, or you're one of those designers that feel more comfortable with a pencil and paper. In that case, this practice will shorten the process of designing a UI mockup.
Use Screenshots
Another practice that will shorten the UI mockup process is using a screenshot. As designers, we take our ideas from different sources; often, this source is another website or application. If you've found an app or website similar to what you'd like to create or want to draw inspiration from it, you can take a screenshot of it.
But rather than storing the screenshot and trying to design what you see from scratch, you can use AI software to convert the screenshot into a high-fidelity mockup. Visily has an AI screenshot feature that allows you to do this, which will take many hours off your design process.
After you convert the screenshots taken on your mobile or PC to a high-fidelity mockup, you can make a few changes so that it's designed specifically for your digital product or website. Once you have adjusted your new mockup, you can send it to the related stakeholders.
This practice is an excellent way for beginner designers to make low-risk high-fidelity mockups for clients and experienced and busy designers with a lot of work.
Guide Your Layout Design with Rulers
When designing and customizing your UI mockup, whether it's a converted sketch or screenshot or you are creating it from scratch, it's always a good idea to use an organized grid system. You can set your AI design app to display the grid, making it easier to measure white space, alignment of your components and content hierarchy.
You can also maintain consistency and design layouts for different sizes with a grid. Instead of spending all your time trying to align components and ensure they are well-proportioned, you can depend on the ruler to change it.
While using a grid on your mockup template, you can also use UI patterns for a better user experience. These patterns make it easy to design a website or application, help users learn how to use a product easily, and eliminate some usability issues that products usually have.
You should apply these patterns carefully using components and features on your app. The grid system ensures that you don't clutter the interface or leave too much white space exposed, as this can lead to even more problems with usability.
Be Organized with Your Components
Every website or web/mobile application consists of different components: the dashboard, the features the users will click on, the links, and more. It's always good to have all the components and icons you need rather than designing them from scratch.
You can save time assembling your mockup by using ready-made templates, themes, cards, forms, footers, icons, etc. There's no better way to get inspiration than to look at a wide library of templates and features that you can add to your mockup. This will especially come in handy when you're having trouble sketching a design and have no screenshots.
Visily features smart components that allow you to easily design the mockups of the most complicated applications and websites. You can even generate a CSS code from these components if needed. There is also a vast library of themes, elements, and icons that you can add to your mockup quickly.
You can save additional time by duplicating your layers and layer styles. For example, if you have multiple icons on the same page with a similar style, you can reproduce the icons you've already added but ensure that they are easily identifiable. You can use Visily's Design Assistant to fix problems with icon set mismatches.
Another pro tip to save time is to correctly name your files and layers. Having a lot of layers and files for your mockup design can become messy and hard to keep track of. So, you should create a system to name all your files and layers, making it easy to recognize and saving you a lot of time.
Choose the Right Font
If you want to avoid wasting time on your UI mockup, you should use mobile and web-friendly fonts. With the wrong fonts, you waste a lot of time since you'll have to change them by the time you see the prototype. If you focus only on design and the font is not compatible with CSS/HTML, you will have to edit the mockup again.
You can check through Google Fonts to see all the web-safe fonts that exist today and ensure that the AI app that you are using supports this font. But you shouldn't neglect mobile-friendly fonts. If anything, the mobile interface is the first indicator that a product has a good user experience. So, your UI mockup should be friendly for mobile screens before anything else.
Luckily, different fonts are safe for both mobile and web applications and websites, and many of them will still look fantastic with your mockup design.
Use Color Tools
One of the essential features of a design is colors, and since your UI mockup has to look exactly like the website or application, it's a great idea to use a tool that helps you get the colors right. Regardless of how experienced you are in design, sometimes it's hard to pair the colors right. And novice designers still stumble over color choices.
With the right colors, you can set the digital product's mood, tone, and concept. It can also be based on the brand colors or combined with different styles that can positively influence the psychology and emotions of the user.
It becomes hard to choose the right pictures quickly and create the perfect visual arrangement for your UI mockup when considering all of these. But, you can shorten the time when you have access to a wide range of color combinations and schemes. You can look through them and pick one that works best for your app.
A helpful color tool that will save a lot of time in your design process is the Visily Design Assistant. This AI feature helps you spot and fix different issues with your color scheme and combination. So if you can't put your finger on what's wrong with the color, the assistant will help you out.
Test and Get Feedback
The final tip is to test and get feedback. Once you have created your mockup in record time, you should have some time afterward to test your UI design. UI design is an ongoing process meant to expose and solve different usability issues, so it doesn't end up in the final product.
Of course, testing your static mockup sounds inefficient; but you can simply ask other members of your team or participants what they think about the layouts, the color scheme, and what they think will happen when they click on a button.
Conclusion
There's so much involved in designing an application, and while the UI mockup is very important, you won't want to spend so much time on it. At the same time, you don't want to rush through it and end up with a design that isn't up to par. With these practices, you can make great mockups for any digital product!
You also need the right tools for your mockup design! Visily, the best wireframe tool is also the free mockup tool for anyone to create UI mockups in just a few clicks, whether using their sketches, screenshots or choosing from the library of templates. The solution also provides features for wireframing and prototyping.
If you're ready to start designing faster UI mockups with high fidelity and leading quality, you can sign up on Visily for free today.