As we reflect on the one-year anniversary of our launch, the Visily team can't help but feel grateful and energized. From the beginning, our goal has been to accelerate software development through an AI-powered wireframe and prototyping tool. Thanks to the amazing support from our user community, we've made great strides since then.
In this blog, we'd like to share what Visily has accomplished in the past year since our official release in April 2022. From acquiring users from over 140 countries to pioneering the use of AI in wireframing and prototyping, we're excited to share our milestones and highlight the features we've built to align with our vision and solve our user pain points.
As we move into our second year, we're more excited than ever about the possibilities that lie ahead. We can't wait to continue pushing the boundaries of what's possible with AI, and we're deeply grateful to all of our users and community members for joining us on this journey.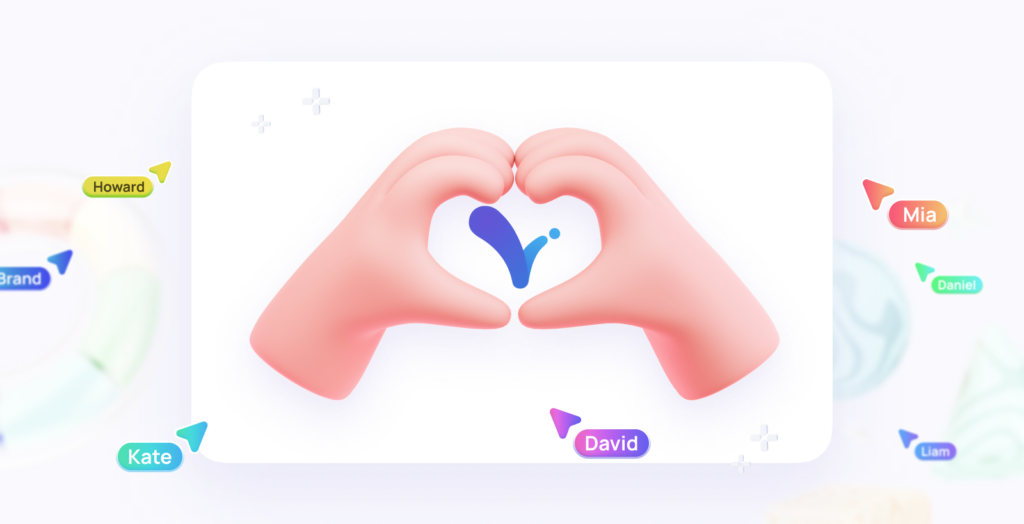 The easiest tool to create wireframes and prototypes
Welcome to the wonderful world of UI design! In this rapidly changing landscape, wireframes and prototypes are the perfect tools to communicate your business ideas, app features and gather feedback. With Visily, even non-designers can create stunning wireframes and prototypes in a snap.
We understand the agony of starting an app or screen design from scratch and the steep learning curve of UI design tools. Therefore, Visily, the best tool for wireframes, provides an extensive library of screen templates, component templates and smart components (such as Table) that not only helps you get started faster but also enables simple customization through an intuitive interface.
Furthermore, Visily also offers users the flexibility to switch between low-fidelity and high-fidelity modes, ensuring that they can communicate their ideas with the right amount of details and through the right level of abstraction, be it the product's overall structure and hierarchy or its finer visual aspects.
→ Read more: The Difference Between Wireframes vs Mockups, and Prototypes in UI Design
Elevate your design through AI
Human potential knows no boundary, and the same holds true for transforming UI design. Visily leads the charge in utilizing AI to unlock your potential. With Visily, there's no need to start from square one, as you can instantly generate an app design from different sources of inspiration, be it screenshots you found on the internet or hand-drawn sketches.
But that is not all, Visily's AI also simplifies the process of establishing the project theme (aka design system) simply by uploading an image (a company logo, an app screen etc.), entering a website URL, or even by describing your styling preferences in plain English. Most recently, Visily released the AI Content Generator. With this new capability, creating content for text elements or tables has never been easier.
By leveraging the power of AI, our objective is to simplify the process of producing beautiful wireframes that serve as the bedrock of your products. These wireframes can be effortlessly transformed into prototypes and mockups with just a few clicks.
→ Follow us on Twitter, Facebook, and LinkedIn to receive updates about our latest AI features!
Fake it till you…
Being a startup ourselves, Visily knows that receiving early feedback is crucial for successful product development, particularly when it comes to validating product functionality, communicating feature requirements and pitching ideas to stakeholders or investors.
With Visily's prototyping support, you can add interactions to showcase the user path and demonstrate how your solution works in just matter of clicks. This is the next best thing to actually coding and showing an app to end-users or stake-holders, except in Visily, it will only cost a tiny fraction of time.
Teamwork makes the dream work
At Visily, we firmly believe that product design is a collaborative effort. That's why we've designed a streamlined solution that enables teams of all sizes to work together effectively. From team workspace management, fine-grained permission control, to collaboration features such as multi-user editing, design comment, CSS/Tailwind code generation… Visily aims to make it possible for everyone in an organization to add value to the design process.
Onward and upward…
Looking back, 2022 proved to be a bustling yet thriving year for us at Visily. Once again, we'd like to extend our gratitude to you for your unwavering support of our new product.
We've come a long way but we're definitely not stopping! We have many product enhancements planned for the upcoming months and cannot wait to unveil them soon. And we always love to hear about your ideas to improve our product roadmap.
Finally, if you love Visily as much as we do, don't forget to leave your review about Visily on: Capterra, SoftwareAdvice, Saasworthy, G2.