Introducing Visily 2.0: the future of collaborative design
With Visily 2.0, we're launching the most powerful, collaborative version of Visily yet.
The features and enhancements we've made in Visily 2.0, as well as other recent launches, are deliberate steps toward building a platform that keeps cross-functional teams aligned from ideation to delivery, all while lowering the barrier to entry for creating beautiful designs, quickly.
Easy design hand-off with Visily's Figma integration
Level up your team collaboration with the all-new Figma plugin! This plugin enables you to easily hand-off Visily wireframes to fully editable Figma designs through copy-pasting.
Check out detailed feature guide here.
Seamlessly create and annotate "wireflows"
"Wireflows" are popular among teams looking to combine UI wireframes and logic flows.
With the addition of connecting arrows to Visily's Notes and Flows library, creating flowcharts, designing wireframes, and annotating the designs are now possible in one single tool!
Dive in and enjoy the most powerful brainstorming process any team can have.
Organize canvas better with "Sections"
Introducing Sections, another new tool designed to foster productivity and team collaboration. Utilize this element, found in the library, to frame groups of items on the canvas.
For instance, with Sections, you can now create distinct segments within a board for various feature flows. To invite someone to view a specific section, simply copy the link associated with it and share. Voilà!
More templates, more inspiration!
Our template library has grown significantly, with hundreds of new additions covering various industries, app layouts, and design styles, for both mobile and web. We also added templates for common UX flows such as onboarding, searching, subscription, and payment.
Utilize these templates as a source of inspiration to kickstart your design process. Whether you're starting a new project or looking to enhance existing designs, we have a multitude of templates for you to explore.
Check out this guide to access different types of templates.
Text to Design AI (alpha) is now available
With this release, we've started granting access in batches to the alpha version of Text to Design AI. Stay tuned and, remember, you can always use the referral code you received when you joined the waitlist to share with others and get earlier access!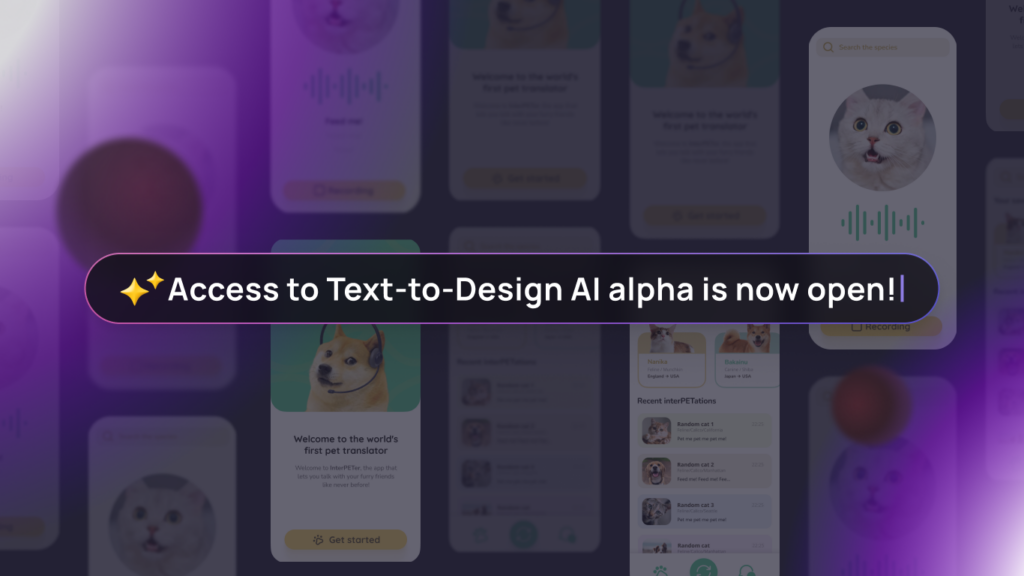 Where we're going from here…
In future releases, you'll see a continued focus on improving the collaborative ideation and design experience across teams, as well as easier ways to kick-start your design from scratch.
Stay tuned for more, and, as always, please reach out with questions or feature requests!